Biography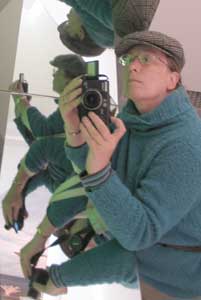 As a child in New Jersey, I admired painting, and the sculpture of Henry Moore, Picasso, Degas, Calder, Brancusi, and many others. My own efforts seemed puny compared to these giants. I thought art had to be monumental. My first depictions were almost exclusively animals. I gave them as much dignity, strength, fierceness, and vitality as I could. My first sculptures were in clay, wood, and sheet metal. I made conscious experiments in style. At Oberlin college, I studied art history: German and Italian Baroque art, in particular. My studio teachers discouraged figurative art. Pollack and Oldenburg were in. I made giant soft sculptures.

I have cultivated a strong interest in the human face and figure. My hatha yoga training has developed an insight into seeing and understanding bodies. Even while drawing or sculpting from a model, I feel that I experience the pose from the inside out.

I have worked in several media. Now, I realize that sculpture has always been my calling. California, with its figurative tradition, has freed me. I have returned to my earliest impulses. I proceed by feeling, and only cautiously let ideas influence my work.
Recent Work
I have been making figurative sculpture in ceramic clay: portrait heads, faces, human figures, animals, and mythical creatures. I usually finish them with ceramic glaze or oxide, wax, paint, encaustic, or pigmented shellac. My sculptures have physicality: a concern with weight and force, extension, balance, and stillness: qualities cultivated yoga. Humor sometimes occurs. I combine working from life, from imagination, and from classical or primitive models.

I started casting metal in 2003. I have made silver ornaments, some bronze horses, a series of small winged figures, and some unique castings in pewter and bronze. I have made several multimedia pieces that incorporate figures. My quest for monumentality sometimes results in a surprising reduction in size: "tiny sculpture" or ornament.

Themes have emerged: the strong or angry woman (gorgon and medusa heads, sphinxes), horned creatures (satyrs, stags, cattle), equines (horses, hippocamps, asses), winged figures.

Drawing from the figure gives me a way to develop sensitivity of line and form, and to work intensively and rapidly with composition. I relish the spontanaity and freedom from gravity that are not available with heavy clay.
Concerns
My first concern was natural representation, then transparent style. Now I want to incorporate meaning that does not compete with the physical presence of the piece: an iconic resonance. I work to clarifiy the relationship of each piece to its genre and tradition.

I like the novelty and freshness that the clay medium offers for figurative sculpture. I am exploring the influence of size and material, on a sculptural idea.